MARKET ANALYSIS FOR THE OPENING OF A PHARMACY IN THE MUNICIPALITY OF MATEHUALA SAN LUIS POTOSI, MEXICO
Keywords:
Market analysis, Pharmacies, health
Abstract
During the pandemic, various health-related businesses were consolidated, including pharmaceuticals, which are growing due to the fact that the population trend has focused on establishing the need to maintain health. The objective of the research was to identify the characteristics of the market for the opening of a pharmacy within the municipality of Matehuala, S.L.P., the methodology that was used is quantitative, of a transactional nature with a descriptive scope. The results indicate that the city of Matehuala, S.L.P. It has the conditions that may allow businesses to participate in this line of business.
The main findings that were found were: that 38% suffer from chronic disease 47% suffer from diabetes, 32% hypertension. 70.3% required an ultrasound a year. 73.3% get supplies from private pharmacies, 81% make purchases one to two times a week. Pharmacy expense: from $101.00 to $200.00 (31%). In the competition, it was identified that chain pharmacies that are distinguished by their price (16%), location (14%), customer service (11%).
References
Antares Health Lines [Sede web]. Madrid: Antares Consulting; 2015. [Acceso 2 de febrero de 2020]. Situación y cifras claves de la farmacia en 2014. [pp 10, 15, 16, 17-26]. Disponible en: https:// www.antares-consulting.com/uploads/ TPublicaciones/91b3fb35d40d4bbc98480025 2bec5f8937908a25.pdf
Besalduch JM. Informe Anual de Oficinas de Farmacia (XX edición). Madrid: Aspime SL; 2019
Berghoff, Hartmut, Philip Scranton y Uwe Spiekermann (2012). The Rise of Marketing and Market Research. Nueva York: Palgrave Macmillan
Brückweh, Kerstin (2011). "Perspectives for a History about Citizens and Consumers: Market Research and Opinion Polling". En The Voice of the Citizen Consumer, editado por Kerstin Brückweh. Londres: Oxford University Press.
Gil MI, Roig JC, Villasuso B, Sáenz-de-Buruaga S. Propuesta de la Sociedad Española de Farmacia Comunitaria (SEFAC) sobre servicios profesionales farmacéuticos en farmacia comunitaria. Farmacéuticos Comunitarios. 2013 Sep 30; 5(3):119-126.
Guía para las buenas practicas sanitarias en farmacias y consultorios (2017). https://www.gob.mx/cms/uploads/attachment/file/223004/GUIA_FARMACIAS_Y_CONSULTORIOS.pdf
Guía para comercialización de medicamentos controlados en farmacias (2017). https://www.gob.mx/cms/uploads/attachment/file/305082/Gu_aREyPF_mayo2017.pdf
Grupo Mensor Servicios de salud. La realidad económica de la farmacia en España: Estudio del impacto económico en las oficinas de farmacia de las medidas de contención del gasto en medicamentos en los últimos diez años. CGCOF. La distribución de la farmacia en España.
Farmacopea de los Estados Unidos Mexicanos https://farmacopea.org.mx/publicaciones-detalle.php?m=3&pid=10
Instituto Nacional de Estadística y Geografía (INEGI) (2020) Censo de población y vivienda 2020.
Instituto Nacional de Estadística y Geografía (INEGI) (2021) Encuesta Nacional de ocupación y empleo (ENOE) Madrid: Mensor Servicios de Salud; 2011. [Acceso 7 de julio de 2020]. Disponible en: http://cofsegovia.portalfarma.com/ Documentos/Portada/MENSOR_Enero2011[ 1].pdf
Marín Toro, A. (2017) Dispensación De Medicamentos en las grandes farmacias de Chile: Análisis ético sobre la profesión del químico farmacéutico. Acta Bioéthica, 23(2), 341-350.
Martín R., Castro L., Molinero A. y Acosta J. (2020) Soluciones tecnológicas de las farmacias comunitarias al abastecimiento de medicamentos: aplicación del modelo colaborativo en red y "big data". Farm Comunitarios. 12 (4): 37-46 DOI: 10.33620/FC.2173-9218.(2020/Vol12).004.05
Nuñez, K. (2013). Guía para la elaboración de estudio de Mercado. Gerencia Nacional Financiera y Administrativa,1–7. http://www.ademaf.gob.bo/inf/digital/Guia_para_Elaboracion_de_Estudio_de_Mercado.pdf
Rivadeneira García, R.T., Montesdeoca Párraga, R. R., Guevara Viera, R.V., del Toro Ramírez A., Curbelo Rodríguez, .L.M., Guevara Viera, G. E., Torres Inga, C. S., y Roca Cedeño, A. J. (2017). Estudio de mercado de la industria Cárnica en Manabí, Ecuador. Revista de Producción Animal, 29 (2), 25-31.
Rocha, E. Panorama do mercado farmacêutico no brasil: perspectivas e desafios. São Paulo: IMS Health, 2016.
Servicio Nacional del Consumidor. Grandes cadenas de farmacias: qué hay detrás de las promesas publicitarias 2006 Junio. (Access: 2009 Mayo
. Available at: http://www.sernac.cl/estudios/detalle.php?id=1499
Salazar-Coronel, A., Aceves-López, J. N., & Valdez- Pineda, D. I. (2018). Importancia de una Investigación de Mercado. 1–14. https://www.itson.mx/publicaciones/pacioli/documents/no71/49a.-_importancia_de_la_investigacion_de_mercado_nx.pdf
Sebrae (São Paulo). Panorama dos pequenos negócios 2018. São Paulo: SEBRAE, 2018. Disponível em:
http://www.sebrae.com.br/Sebrae/Portal%20 Sebrae/UFs/SP/Pesquisas/Panorama_dos_P eq uenos_Negocios_2018_AF.pdf. Acesso em: 01 maio 2019.
Wegner, D. y Padula, A. Estratégias de crescimento e a governança de redes horizontais de empresas: o caso da maior rede cooperativa de varejo de alimentos na Alemanha. Revista de Ciências da Administração, v. 13, n. 30, p. 220-248, 2010.
Prado Marques, A. D., Meyer Montenegro, L. y Batista, K. (2020). Estratégias de crescimento Em Redes Interorganiacionis: Um Estudo Com Uma Rede De Farmácias. Revista Electrónica de Estrategia y Negócios, 13, 268-300. https://doi.org/10.19177/reen.v13e22020268-300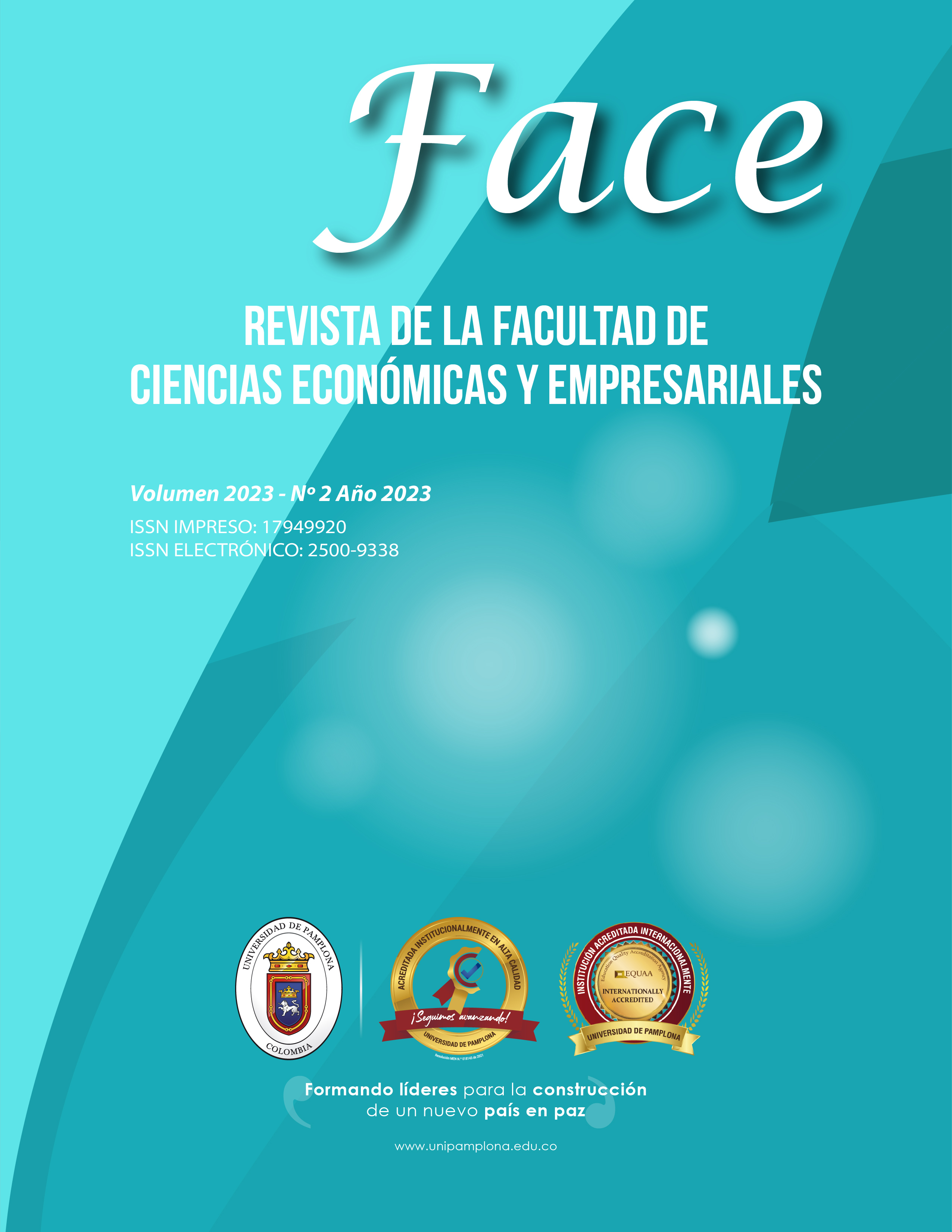 How to Cite
Universidad de Pamplona , R. I. & praxis en C. S. (2023). MARKET ANALYSIS FOR THE OPENING OF A PHARMACY IN THE MUNICIPALITY OF MATEHUALA SAN LUIS POTOSI, MEXICO. FACE: Revista De La Facultad De Ciencias Económicas Y Empresariales, 23(2). https://doi.org/10.24054/face.v23i2.2467
License
Copyright (c) 2023 FACE: Revista de la Facultad de Ciencias Económicas y Empresariales
This work is licensed under a Creative Commons Attribution-NonCommercial-ShareAlike 4.0 International License.