ENDOMARKETING AS A CORPORATE SOCIAL RESPONSIBILITY STRATEGY
Keywords:
Mercadotecnia interna, responsabilidad social empresarial, cliente interno, cadena de valor
Abstract
Previously, corporate social responsibility was supported mainly by the generation of profits for the partners, later the preservation of the ecology was integrated; however, this concept now goes further, although it emphasizes the positive or negative impact that company operations entail, it also considers, the quality of life of employees and of society. Here resides the importance of the practice of Endomarketing.
It is understood as an organizational strategy that seeks to apply the marketing mix inside the organization, it considers collaborators as an internal customers who wants to satisfy their needs and desires, it also develops loyalty to the company, and become internal customers into brand ambassadors who are faithful promoters of the values and culture of social responsibility that are lived inside the organization, in addition, those benefits are transferred in the value chain to external customers.
References
Abanto, A., Guillén, L. y Segovia, J. (2012). Diseño y Desarrollo de una Empresa de Endomarketing Familiar (Tesis de Maestría). Universidad Peruana de Ciencias Aplicadas.
Álvarez, D. (2020). Rotación de Personal ¿Qué es y cómo combatirla? Barcelona: Plaza y Valdés Editores.
Cardona, D. (2017). Endomarketing: hacia la construcción de la identidad empresarial. Revista Cultural Unilibre. https://revistas.unilibre.edu.co/index.php/r evista_cultural/article/view/4225
Calle Poma, B. (2022). Endomarketing en la Imagen Corporativa en una entidad privada (Tesis de Maestría) Universidad César Vallejo. Escuela de Posgrado.
Caridad, M., Salazar, C., Rincón Quintero, Y. y Soto, A. (2018). Consistencia de la responsabilidad social en universidades privadas desde la gestión del Endomarketing. Revista Opción, 86, 1011-1042.
Centro Mexicano para la Filantropía (s.f.). El concepto de Responsabilidad Social Empresarial. Recuperado de https://www.cemefi.org/esr/images/stories/pdf/esr/concepto_esr.pdf
García Cali, E., Barros-Arrieta, D. y Valle-Ospino, A. (2018). Endomarketing desde el paradigma de la sostenibilidad organizacional: Una revisión de la literatura. Desarrollo Gerencial, 10(2), 65- 82.
Giménez, M. (2020). El Endomarketing como impulso de la Responsabilidad Social Empresarial en las organizaciones trasmodernas. Revista Gerentia, 2, 119-
Gobierno de México (s.f.). Responsabilidad Social Empresarial. Secretaría de Economía. Recuperado de https://www.gob.mx/se/articulos/responsa bilidad-social-empresarial-32705
Kotler, P., Keller, K., (2006). Dirección de Marketing. México: Pearson.
Levionnois M. (1992). Marketing interno y gestión de recursos humanos. Madrid: Díaz de Santos, S.A.
Mendoza, J., (2011). Retos y oportunidades de la investigación en marketing interno. Revista de Ciencias Sociales (RCS) https://www.redalyc.org/pdf/280/2802275 5010.pdf
Payares, K., Berdugo, A., Caridad, M., y Navarro, E. (2017). Endormaketing y calidad de servicio interno en las pequeñas y medianas empresas del sector salud. Revista Espacios, 38(57).
Pico Sandoval, A. (2023). Endomarketing como mecanismo para promover la atracción y retención del talento humano (Especialización en Gerencia del Talento Humano). Universidad de Bogotá Jorge Tadeo Lozano.
Rodríguez, S. (2022). Endomarketing: Elevando la Satisfacción Laboral de una Empresa de Gestión Documental. (Tesis de Maestría) Universidad de San Carlos de Guatemala.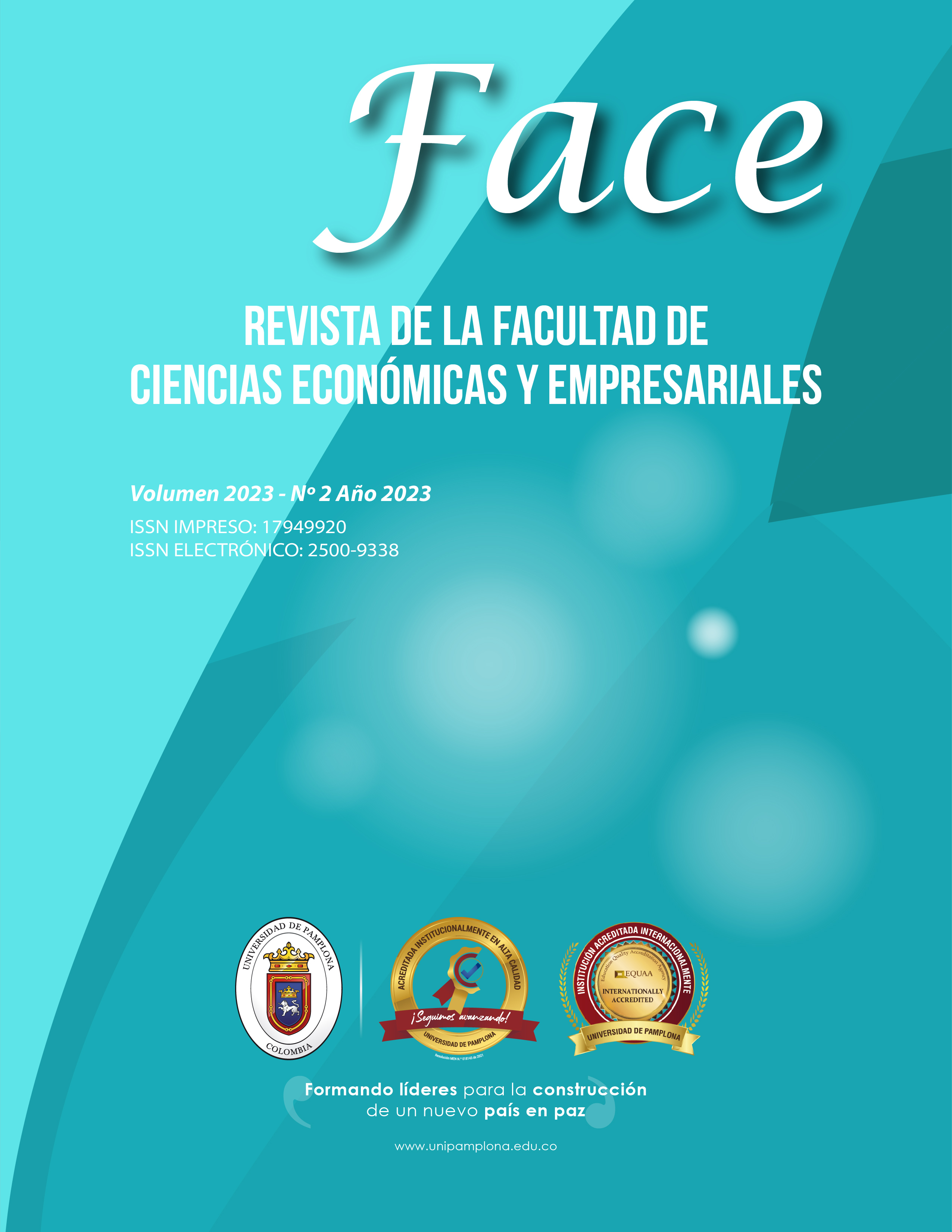 How to Cite
Guadarrama Sánchez, E. (2023). ENDOMARKETING AS A CORPORATE SOCIAL RESPONSIBILITY STRATEGY. FACE: Revista De La Facultad De Ciencias Económicas Y Empresariales, 23(2). https://doi.org/10.24054/face.v23i2.2470
License
Copyright (c) 2023 FACE: Revista de la Facultad de Ciencias Económicas y Empresariales
This work is licensed under a Creative Commons Attribution-NonCommercial-ShareAlike 4.0 International License.