About the Journal
BISTUA is the journal of the Faculty of Basic Sciences of the University of Pamplona-Colombia, published every six months. Its mission is to disseminate original research results that contribute to broaden knowledge in the natural and exact sciences. BISTUA is an open access, peer-reviewed scientific journal, published in paper ISSN:0120-4211 and electronic e-ISSN:2711-3027. BISTUA is open access, with no charge to authors for submission and publication of their work.
BISTUA publishes scientific and technological research articles, review articles and letters to the editor. The areas of interest are the following:
Biology-Microbiology, Physics, Geology, Chemistry, Mathematics, Applied Basic Sciences.
BISTUA is refereed by PUBLINDEX, Sistema Nacional de Indexación y Homologación de Revistas Especializadas CT+I, a Colombian system for classification, updating, ranking and certification of scientific and technological publications. Category C (2022),
BISTUA also has free access from the following databases:
REDIB, MIAR, DIALNET, EBSCO, BIBLAT, LATINDEX, GOOGLE Scholar.
Current Issue
Vol. 21 No. 1 (2023)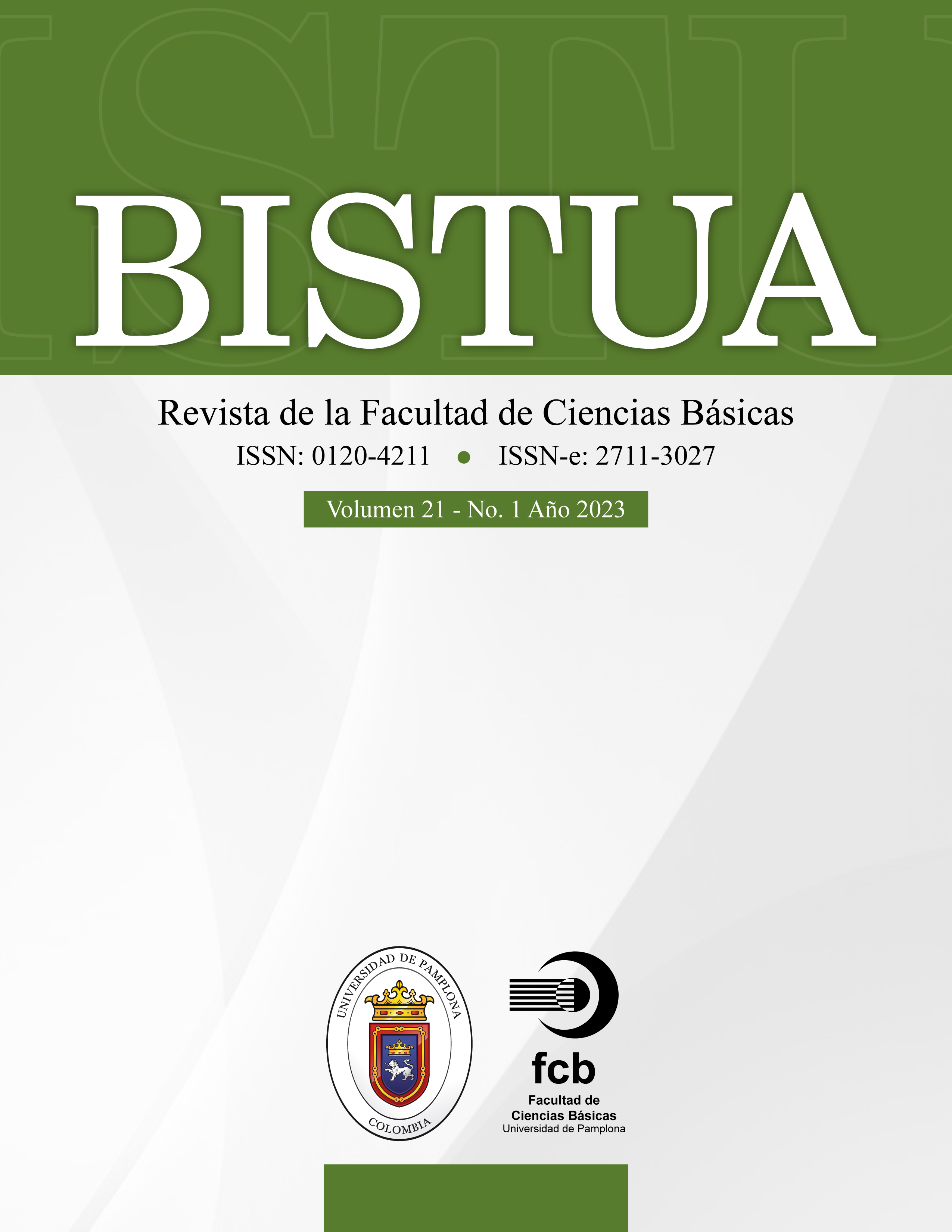 Articles published in this issue:
BIOLOGY
Quantification of Zearalenone in rice cultivated in Norte de Santander and its cytotoxic effect on HepG2 cells.
PHYSICS
Calculation of the Bohm potential from the solution of the Ermakov equation.
Persistent Foconductivity in strontium titanate fibers, estimation of shallow and deep traps.
GEOLOGY
Mineralogical and geochemical characterization of the vein-type Au-Ag mineralization in Quebrada Aserradero, municipality of California, Santander (Colombia): geometallurgical implications.
Effect of mining tailings, cassava peels, and rice husk waste on the performance and durability of fired bricks.
View All Issues